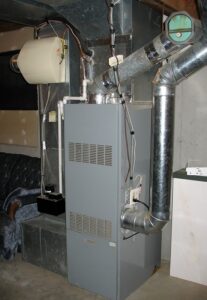 You have a lot of decisions to make when you need a new furnace. Not only do you need to choose from gas, electric and oil for your new heater, but also a heating installation company. If you havent purchased a new furnace in the past decade, you may not be familiar with the advances in heating technology.
How Does a Single Stage Furnace Work?
With a single stage furnace, when the temperature in your home drops below the thermostat setting, the heater comes on at full power. It quickly heats the home. Sometimes this leads to areas that are warmer and areas that are cooler. It is the most affordable type of furnace, but the least energy efficient.
What is a Two Stage Furnace?
A two-stage furnace is slightly more energy efficient than a single stage. It has two settings, one that is full power and one that is a partial power. When a two-stage furnace operates, it heats the home more evenly while operating at a higher level of energy efficiency. They do run longer which equates to better air quality. A quality two-stage furnace is also quieter.
Why is a Modulating Furnace Best?
If you plan on owning your home for more than five years, consider a modulating furnace. The additional cost is offset by energy savings, usually withing the first 3-5 years. A modulating furnace runs nearly all the time at a very low level. It keeps your home a constant temperature making for a comfortable home.
Poormans Heating & Air Can Help
We believe that the best consumer is a well-informed consumer which is why were here to answer any of your questions, including which option is best, a single stage, two stage or modulating furnace. We are a total heating installation company offering all types of heating systems including heat pumps, gas furnaces, boilers and more. Call us today at (260) 422-3534 for your free quote for a new heater for your home. You can also fill out our contact form and well call you to schedule an appointment.