Decades of Excellence
Max Poorman, founder of Poormans Heating & Air, started a tradition of hard work and excellence in the home heating and cooling industry decades ago that still rings true today. Max spent his formative years in Illinois before his family moved to Berne, Indiana in 1941. Soon after he met a young lady named Mabel, who he would eventually ask to be his wife.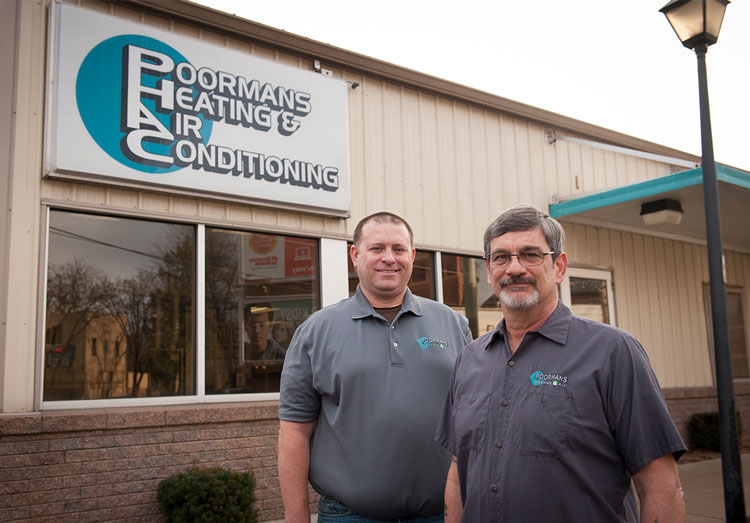 After a short stint at the Studebaker Company in Fort Wayne and later at Wayne Home Equipment, Max was offered a job at Superior Fuel Company in 1948. During this time, a large shift from coal furnaces and boilers to automatic oil furnaces occurred. Max kept busy converting schools, factories, churches and hospitals from coal to oil for the next 10 years. During this time, Max and Mabel had three children: Arlene, Kathryn and Greggory.
Max spent the early 1960s modernizing large boiler plants from rotary oil combustion to forced draft atomization gas/oil burners. In 1978, Max and Mabel saw a need for a new way of serving the needs of our region the Poorman way. So Max launched the company that today serves customers throughout the area.
Why Choose Us For Your Home Heating and Cooling Needs?
"We are a company that promotes the highest of integrity with all of its employees whom you can trust to be in your home or business."
MISSION STATEMENT
Poormans Heating & Air Conditioning strives to provide our home heating and cooling customers with the most comfortable, efficient and economical mechanical systems available by applying unparalleled knowledge, skill, craftsmanship and personal service with a team of highly trained employees.