ONGOING PERFORMANCE AND EFFICIENCY
From the moment your building opens and becomes functional, its systems require regular oversight and upkeep. Without regular maintenance, heating, ventilation, and air conditioning it will lose efficiency over time, increasing operating costs and diminishing occupant comfort.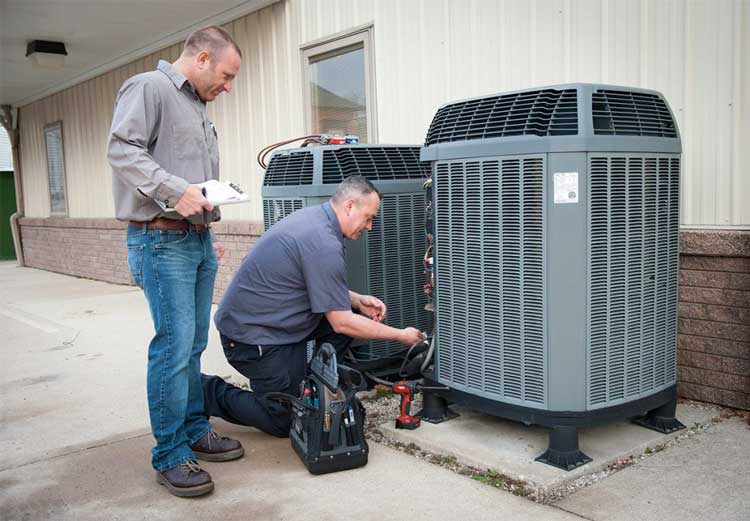 Existing Building Commissioning can bring your facility performance in line with your current needs through retro-commissioning. It also can help maintain those gains in performance through ongoing commissioning or improve and maintain performance with retro-commissioning and ongoing commissioning.
No one would argue that a good dose of preventative maintenance not only saves money in the long run, its also good for the environment. At Poormans Heating & Air, we understand that premise all too well. We know that customers with well-maintained and properly running equipment are happy customers. Thats why we offer our Peace of Mind agreement.
With our Peace of Mind Agreement, well agree, for an annual modest fee, to inspect your heating and air conditioning systems twice a year, spring and fall, to ensure that they are always running at peak performance. Following are the benefits of our planned maintenance:
Automatic, regular inspection service
Preferential emergency service scheduling
Potential problems are spotted before trouble and major expense occurs
Lubricating, adjusting and cleaning keeps your heating and cooling system running at peak, trouble-free efficiency
Lower fuel bills
No overtime charges for emergency repairs
GAS FURNACE/AIR CONDITIONER PEACE OF MIND AGREEMENT
Clean and adjust automatic controls.
Clean burners
Adjust combustion for optimum fuel efficiency
Carbon monoxide test
Lubricate as needed
Test for combustion leaks
Test safety shutoff response
Check blower belt wear, tension and alignment
Check flue for satisfactory operation
Clean condenser coil if necessary
Check electrical connections for tightness
Adjust system for optimum cooling
Check for oil and refrigerant leaks
Check safety devices
Check expansion valve and coil temperatures
Check refrigerant level
Check condensate drain
HEAT PUMP PEACE OF MIND AGREEMENT
Lubricate as needed
Check defrost cycle and reversing valve operation
Adjust air volume for maximum efficiency
Check safety devices and electrical connections for tightness
Check blower belt wear, tension and alignment
Check for oil and refrigerant leaks
Test electrical controls for proper operation
Check refrigerant level
Check refrigerant controls and coil temperature for maximum efficiency
Check condensate drain
GAS BOILER PEACE OF MIND AGREEMENT
Lubricate pumps and motors
Clean burners
Adjust combustion for best efficiency
Test low-water cutoff
Test safety limit controls
Test safety shutoff response
Check water fill valve and expansion tank operation and setpoint
Test flue for satisfactory operation
Test for combustion leaks
Check for carbon monoxide
Check for proper water circulation
OUR PROMISE
As our promise to our Peace of Mind members, Poormans agrees to:
Inspect the equipment on a scheduled basis as shown, and during each inspection perform the applicable services per above checklist
Instruct you in the operation of the equipment
Give our service contract holders preference over all service activity normally undertaken by us