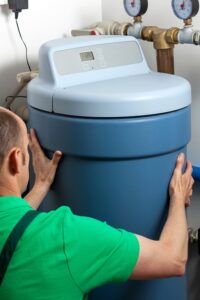 Fort Wayne drinking water comes from the St. Joseph River and is treated by the city. Like most water authorities throughout the country, their water exceeds the minimum health guidelines. However, do you really want drinking water that merely exceeds minimum standards? If you have yet to contact water softener installers to discuss a water filtration and softener system for your home, here are three reasons you should.
1. Many Chemicals Used to Clean Water Are Hazardous
Weve all noticed when our water smells like chemicals. On one hand, we dont want water that will make us sick with a stomach bug or bacterial infection. On the other hand, we dont want to use or drink water that will make us sick with cancer. Many of the cleaning agents used in cleaning our tap water in Fort Wayne drinking water are known cancer-causing agents. The EPA hasnt updated the tap water standards in 20 years!
2. Drinking Bottled or Refrigerator Filtered Water Doesnt Solve the Problem
Some homeowners mistakenly believe that if they have a water filter on their refrigerator and drink bottled water, that theyll be fine. However, our skin is our bodys largest organ. When we bathe, our bodies are exposed to the chemicals. The clothes we wear are washed in the chemical filled water and when we wear our clothes, sleep in our beds, those chemicals are still in the fabric.
3. Your Appliances Are Rapidly Aging
Ask any water softener installers and theyll tell you how hard water and water with certain contaminates age appliances more rapidly than clean water. Although appliances are fairly easy to replace, Fort Wayne drinking water may also be damaging your pipes. Those are a lot more difficult to replace when damaged.
Poormans Heating & Air Can Help
We are water softener installers in Fort Wayne and the northeastern Indiana region. We install the quality products from Sterling Water Treatment which include more than just water softeners. If youd like to learn more about your water and the products that we offer that may help you, call us today at (260) 422-3534. Were A+ rated by the Better Business Bureau.