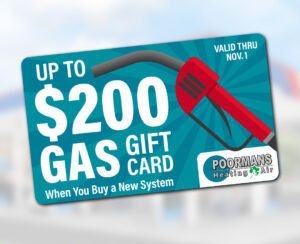 New HVAC systems are a big investment. And with these outrageous gas prices, Poorman's wants to reward buyers by giving back to customers with something they will actually use. Who doesn't like free gas? From now through November 1st, Poorman's Heating & Air is giving away FREE gas gift cards to new system buyers. Get up to $200 in free gas when you buy a new air conditioner, furnace, water heater, or full system. Everyone who gets a gift card will be entered to win a $500 gas gift card at the end of our promotion.
How Much Free Gas Money Will I Get?
It all depends on what systems you get. The amount ranges from $25-$200. The more you spend on the system, the more you get in free gas. But if you're already buying a new furnace or air conditioner, why not get something back in return?
How Do I Get My Gift Card?
It's easy! Get your free gas gift card by asking your comfort advisor during your free quote. Your comfort advisor will tell you how much free gas you'll get back. Click here to get started, or call (260) 422-3534.
*Promotion Ends November 1st.