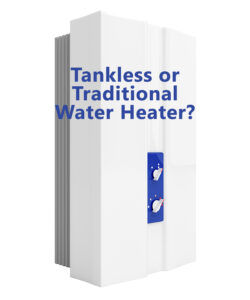 More and more were asked which type of water heater is best, a traditional or tankless water heater? Tankless water heaters offer many benefits that you cant get with a traditional tank style one, however, theyre not perfect. Here are some things you should know if youre replacing your water heater in Fort Wayne, IN.
Why We Love Tankless Water Heaters
When it comes to energy efficiency, you cant beat a tankless water heater. In fact, theyre at least 25% more energy efficient than most tank style water heaters. Add to the fact that they last 20 years or more which is twice as long as a traditional water heater, you wont have to consider another new unit for a very long time. They also have fewer parts, which often equates to few repair issues. Some homeowners love that they mount on the wall freeing up valuable floor space.
Why Doesnt Everyone Upgrade to a Tankless Water Heater?
Its not always that simple. Sometimes we have to replace pipe from the gas meter to the water heater for gas installations. Electric installations often require a new 200-amp (or greater) circuit installed. This leads to the increased installation cost of a tankless water heater. Units also cost more. A tank-style water heater generally costs between $500 – $750. Tankless units can start in that range, but go up to over $2000!
There are other drawbacks, one is in households where more than one person (or appliance) needs hot water at the same time. You may find that not everyone has the hot water they want or need. Youll also find that if you dont open the hot water completely, you may not end up with the temperature water you want which can waste water by using higher pressure than you may need.
Which Should I Choose?
There is no easy answer. If energy efficiency and nearly always having hot water is important to you, a tankless water heater may be the best option. Fort Wayne, IN families on a budget, will likely want to stay with a traditional water heater.
Talk to Poormans Heating & Air about your needs regarding a new water heater and well help you choose the right size and type of water heater for your home. Call us today at (260) 422-3534 or fill out our contact form for your free consultation for a new water heater. We service northeast Indiana and northwest Ohio.