It's no secret that performing regular maintenance on your furnace and air conditioner, even when they don't need it, is beneficial for many reasons. Not just to ensure your comfort in the summer or winter, but to ensure the health and longevity of your HVAC system. Having a licensed technician perform maintenance tasks on your units every year may sound unnecessary at first, but it is such a great investment. It provides serious Peace of Mind in knowing that you are likely safe from any major HVAC breakdowns. Learn about the Importance of Preventative Maintenance here:
1. Saves Money
You may not believe it, but regular maintenance means big savings over the years. Keeping your air conditioner or furnace running at peak efficiency reduces energy costs. According to the U.S. Department of Energy, you can save up to 30% on energy costs with a well-maintained HVAC unit. You can also prolong the lifespan of your furnace or air conditioner. HVAC installation isn't cheap, so taking care of your unit is a great way to avoid possible replacement costs. Finally, regular maintenance allows you to stay covered under your warranty. Some manufacturers require proof of regular maintenance if you claim a repair under warranty. A simple, routine visit from an HVAC technician is enough to keep your warranty alive!
2. Ensures Home Safety
Preventative HVAC maintenance provides a safety shield to you and your family against the risk of carbon monoxide poisoning. The most common cause of carbon monoxide leaks is broken or failed heat exchanger. HVAC technicians can check to see if your system is at risk for potential hazard.
3. Reduces Carbon Footprint
An HVAC system that is not cared for has to overwork itself just to carry out its main function. Therefore, if a system is well-maintained, it will need considerably less fuel. Also knowing what types of refrigerant your system is using is a big help in maintaining a healthy environment.
4. Improves Air Quality
Keeping your machine maintained also includes healthier, cleaner air. This means making sure that the warm or cold air going through your vents is as well-filtered as possible. This helps with all types of issues such as mold, odors, smoke, pollen, etc.
Schedule Your Spring Preventative Maintenance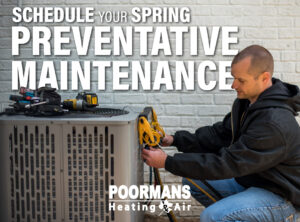 Spring has sprung, which means it's time to move our attention away from our furnaces and schedule our spring POM maintenance for our air conditioners. There's lots to be done during this time to ensure you are covered during so make sure you use Poorman's, a trusted HVAC company for your preventative maintenance service. As a Poorman's POM customer you get the following benefits:
1. No overtime charges for emergency rates
2. 10% off parts discount
3. Automatic, regular inspection service
4. Preferential emergency service scheduling
5. Potential problems spotted before trouble and major expense occur
6. Lubricating, adjusting & cleaning keeps your heating & cooling systems running at peak, trouble-free efficiency
7. Lower fuel bills
8. Peace of Mind
Click here to see more of the savings and discount options offered at Poorman's. If you are interested in learning more about our Preventative Maintenance agreement, or if you want to sign up, you can download our POM pdf below or call our office at (260) 422-3534.