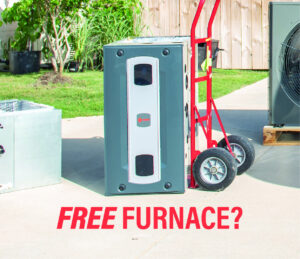 "Get a FREE Furnace When You Buy a Qualifying Air Conditioner"
Every day, all businesses entertain new marketing ideas to sell a product or service. The HVAC industry is no exception. We come up with different ideas to get calls from customers, and for some companies, that means new verbiage that isn't necessarily true. If you haven't noticed, some of our competitors have been advertising for a free furnace when you buy a qualifying air conditioner. Don't fall for this "Free" furnace gimmick. What does it actually mean? What is a "qualifying" air conditioner? Are they actually giving it away for free?
First things first: If a deal sounds too good to be true, then it probably is. Furnaces can cost upwards to $10,000. They are a long term investment for the comfort of your home. All HVAC companies need to make money, so would they really give away one of their most vital products that generate the most profit to their business? The sad truth is, no. Free furnaces don't exist. These companies are selling this idea to the consumer for the initial call or click, only to have their bubble burst. A "qualifying air conditioner" will have you spending top-dollar on one system with a cheap furnace thrown in. And even if your estimate isn't that much, the extra cost will be hiding behind inflated installation fees. Remember that companies have to pay for install labor, which is expensive in itself. Click here to read why Furnace Installation is so expensive, and add that to the list of things they can't do for free.
Poorman's Heating & Air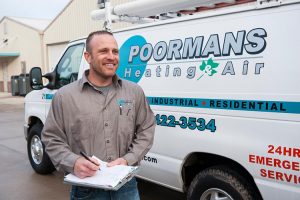 As our competitors TRY to sell their "free" furnaces, Poorman's is selling honesty and integrity. We provide you REAL pricing from talented experts that don't just try to make a quick buck. Even then, our prices often still come out on top as the best deal. We also offer financing options through Wells Fargo. Click here to learn about our financing options, both for residential AND commercial. Trust Poorman's Heating & Air and get your HVAC service performed by a reliable and honest company. Call (260) 422-3534 for a free estimate on a new furnace, air conditioner, water heater, and much more.