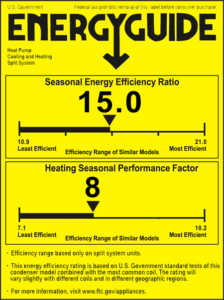 If youre looking at a new air conditioner, youve likely heard the term SEER rating. It refers to the overall energy efficiency of a HVAC system. Its one of the elements you need to consider when buying a new HVAC unit for your home or business. But, just how much does it matter and exactly what is SEER rating?
Seasonal Energy Efficiency Ratio
SEER rating stands for seasonal energy efficiency ratio. Thankfully your air conditioning replacement company has the information for the units they sell. If they dont, its easily found on the manufacturers website. You can click here for the formula if you want to figure out your current units rating and no longer have that information.
Over the past 30 years the minimum SEER rating of units has gradually been raised and now sits at 13 SEER for the Bryan, Ohio and Fort Wayne, Indiana areas. However, you may want to consider a higher SEER rating.
Higher SEER Rating = Greater Savings on Cooling Costs
If youve ever bought a new car, you likely looked at the miles per gallon of the various models you were considering. You should think of SEER ratings the same way. If you currently have a unit rated 10 and choose a unit thats 16 SEER, you could save 20% or more on your cooling costs. Alternately, if you choose a 14 SEER unit, your savings will be closer to 8 10%. Its worth looking into the savings when comparing various units.
Talk to Your HVAC Company
Your HVAC company can help you understand potential savings of a new unit. They can also help you compare various units and discuss what savings you may see. Poormans Heating & Air is ready to help you with a free quote on a new air conditioner. We offer quality air conditioners and HVAC systems from Trane and they offer many products with a variety of SEER ratings. Call us today for your free estimate at (260) 422-3534 or fill out our contact form.