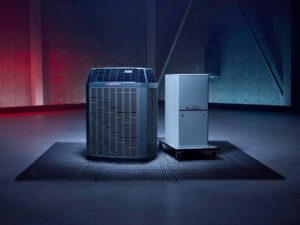 Trane is widely known as "the Cadillac of HVAC systems". This is because they are among the absolute best brands for heating and cooling. However, the great name comes with great fear, as many fear that the price of a Trane is too far out of their reach. However, initial perception is not the reality. Trane is a money saver in the long run. They are ranked as the least likely to break down, highest durability, and the longest equipment lifespans. Once all that is factored in, you may see that Trane essentially pays for itself. Even though it is a larger cost upfront, Trane is a money saver. Here's how:
Efficiency
Trane offers high-efficiency options. Trane's modulating furnaces do not operate at full capacity like a standard furnace. AND they run much quieter! With Trane, there is also an abundance of ENERGY STAR products, which are 10-15% more efficient than baseline models. By choosing ENERGY STAR certified heating and cooling equipment, you can enhance the comfort of your home while saving energy. Saving energy helps you save money on utility bills and protect our climate by helping prevent harmful carbon pollution and reducing other greenhouse gases.
Click here to explore Trane's high-efficiency furnace options
Easy Service
Trane systems are so widely common, that they are usually a quick and easy service. All HVAC technicians are so familiar with Trane, and most of the repairs are rather predictable. This means less labor costs for you! Think about it, if you want to get a technician in and out in no time, Trane is the way to go.
Readily Available Parts
Trane parts are not only easy to find, but they are usually in-stock and on-hand at all times. Trane is also compatible with most universal parts, so even when a specific part is not in stock, alternative parts can be used.
Long Lifespan
Average run-of-the mill HVAC units have a lifespan of about 10-15 years. But with proper maintenance, Trane units can often last much longer. Without any degradation in performance, Trane systems usually run as well as they do day one, even 20 years later. Trane is built to last!
Get Your Trane at Poorman's Heating & Air
If you think Trane may be your next purchase, look no further than Poorman's Heating & Air, Fort Wayne's family-owned longest standing Trane dealer. Get the best brand for the best price. Serving Northeast IN and Northwest OH, Poorman's guarantees 100% customer satisfaction for installation, service, and maintenance. Also get up to $1000 off when you purchase a full system–only at Poorman's! Call for a free quote today (260) 422-3534. Or Contact Us to set up a quote.