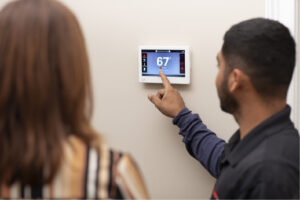 With the advances in technology we have today, we are reaping the benefits now more than ever. These days, having a smartphone, smartwatch, or smart doorbell is rather common. Smart thermostats are no exception. They are a great upgrade for numerous reasons, especially when it comes to convenience, cost and efficiency.
Easy Control Remotely
Smart thermostats give you ultimate control over your home, without even being at your home. All control is through your smartphone, so you can monitor the temperature at all times. Adjust temperature before you get home and after you leave the house. No reason to keep the house at optimal temperature when you're not there to enjoy it!
Programmable Options
These thermostats allow you to create a schedule of different temperatures throughout the day. Prefer it to be a little cooler at night? Schedule your cooler temperatures right before you go to bed. Don't need a perfectly cool house while you're at work? Schedule a temperature change while you're away at work. There's no need to keep your home at optimal temperature 24/7. Doing so will save energy, and your HVAC unit won't have to be working so hard all day.
Saves Money
Lastly, they are a big money saver. The capability of customizing an energy-saving schedule makes a huge difference in those energy bills. If you want to advance your energy efficiency even further, consider getting a system with a higher SEER rating. Click here to read our blog about SEER. SEER ratings are very important when determining what type of air conditioner you want and how efficient you want it.
Smart Thermostats at Poorman's Heating and Air
In conclusion, smart thermostats are a quick and easy installation that not only saves you money, but provide ultimate control over your home's temperature at all times. There's a large variety of them on the market, and the professionals at Poorman's recommend Trane and Honeywell. Click here to browse the smart thermostats on Trane.com and call Poorman's to install a smart thermostat today! These thermostats provide the most control over the temperature of your home and will save money in the long run.