Our HVAC MobileSite
With the spring season come new and exciting changes! Weve been hard at work providing our Poormans patrons with a new mobile website!
Visit our website on your mobile phone and find an easy to navigate website thats fully equipped with a direct call button and other easy to use and read features!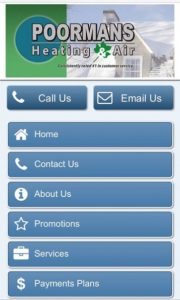 Let us know what you think about our new mobile site! If youre in need of your spring/summer maintenance check,call the experts at Poormans Heating and Air Conditioning (260.422.3534). Emergency services are available 24/7. You wont be disappointed with Poormans quick response and affordable, outstanding service. Dont forget to check out Poormans Facebook page! Like us!