Time for a new system? Where do you even begin? One of the first things a new buyer must consider is the brand of unit you want and how reliable it is. There are many different heating and cooling brands to choose from, but there is only one brand that is built to run, and that's Trane. Next time you're in the market to replace your furnace or air conditioner, consider Trane. Trane has some of the best and most reliable products on the market today. Some may even argue that it is the best. Even though Poormans is a certified Trane dealer, we're not just biased because that's what we do. Trane has proven time and time again that it stands out amongst its competitors. Here is why you should buy a Trane.
Long Lasting
Trane is built to run, meaning you get your money's worth when buying a new system. These units can last upwards to 20 years with proper maintenance. And they stay running great with age. That's because they go through relentless testing. The testing exposes the units to five year's worth of wear and tear in just a matter of months. It's no wonder why "it's hard to stop a Trane", you will definitely get your money's worth!
Accessible Parts
You may not think about this in advance, but Trane parts are usually readily available and easy to get. Our experience getting parts from other brands are just not as instant. These readily available parts definitely come in handy when your furnace breaks down in freezing weather and you need a gas valve ASAP. Or when your air conditioner needs a new control board when it's 80+ degrees. Trane parts are almost always in stock and ready to go! Don't forget to sign up for a maintenance plan with Poormans and get 10% off on all parts!
Easy to Service
Tranes are built with technicians in mind. In other words, they are among the easiest brands to service. Almost any need for a repair or maintenance is usually a quick fix. They are easy to disassemble and reassemble. That means the technicians can usually get in and out fairly quick, meaning less labor costs for you.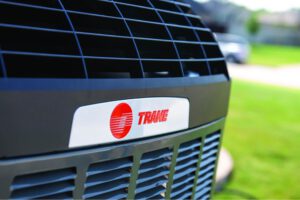 Get a Trane at Poormans Heating & Air Conditioning
As mentioned before, we at Poormans are Trane Comfort Specialists, and we have been doing this for 45 years. If you like saving money, buy a Trane. Trane has a variety of products with a variety of prices and efficiencies. Call Poormans Heating & Air for a free quote, or click here to get started.