Geothermal Systems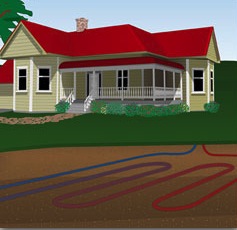 Being green is all the rage (as it should be!) But are you doing everything in your power to create a green atmosphere for your home? There are several benefits to an environmentally friendly geothermal home but the costs can be discouraging. As a homeowner, before deciding to purchase a geothermal system, you must ask yourself if in the end will this big investment increase the value of your home. Geothermal systems are a large investment and people want to make sure they will still get a benefit from the system if they decide to sell their home before they reach their payback period.
Real estate appraisers refer to the value an amenity such as a geothermal system adds to the value of a home as Contributory Value. Which in non-real estate terms simply means finding a base value of your home by considering the values of the homes in your area. While geothermal system installations have been increasing, it can still be hard to find comparable homes that have sold with geothermal systems. This makes finding concrete data difficult, and because of this many realtors and appraisers will not be able to give you a firm answer on whether or not a geothermal system will increase the value of your home.
As geothermal systems continue to grow in popularity and homeowners become increasingly aware of the many benefits (lower operating costs, clean and safe, environmentally friendly) of these systems, more data will be available for appraisers to use to find the Contributory Value of geothermal. In the meantime, if you are considering geothermal but are not sure how long you will be staying in your home, think about the value you get can by using this awesome technology. If you can see value in this system, isnt it possible your future buyer could see value too?
If youre in need of some assistance, call the experts atPoormans Heating and Air Conditioning(260.422.3534). Emergency services are available 24/7.Poormansalso specializes in geothermal systems, call for an estimate. You wont be disappointed withPoormansquick response and affordable, outstanding service. Dont forget to check outPoormans Facebookpage! Like us!